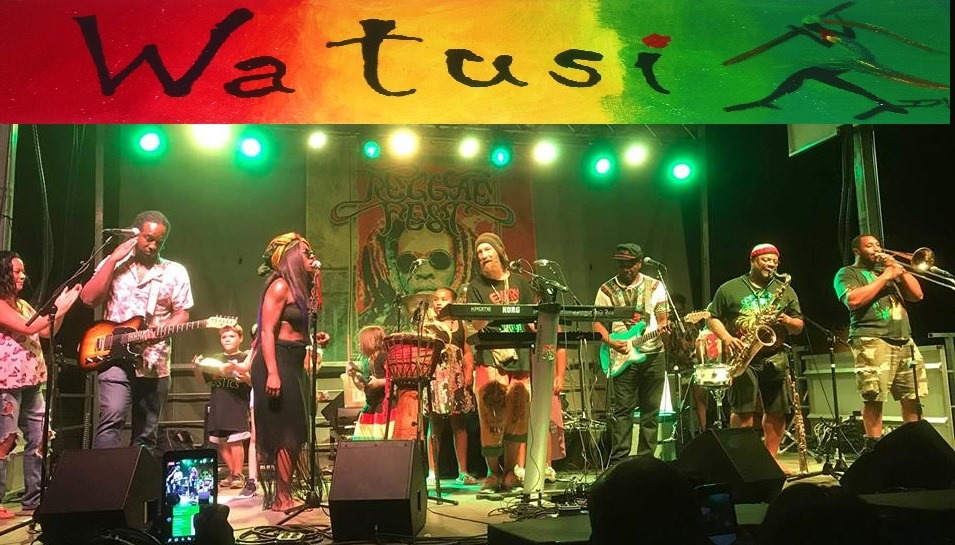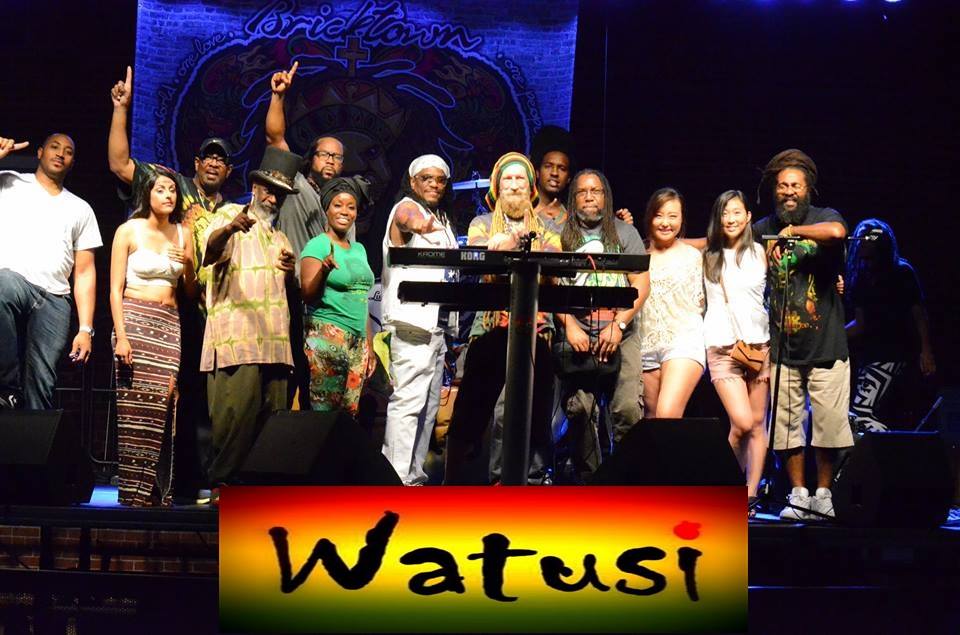 Welcome To The Wild World of Watusi !
WORLDBEAT =
Caribbean REGGAE, Soca, Calypso, Zouk, Jawaiian, LATIN  Samba, Salsa, AFRIKAN Soukous, Highlife, Mbalax, Juju, Afrobeat, Jazz, Funk
World

 

Beat

 

Reggae

WATUSI is the original, tropikal "World Beat Reggae" band in the USA, with players from around the world and based in Dallas,Texas.
Watusi is the premier artist on World Beatnik Records,
and a Texas musical legend, respected and played worldwide, winners of numerous Reggae and World Music Awards including 2016, 2014, 2012, 2010 and 2009 Texas Music Awards for Reggae and… nominated for the Roots Music Association "Reggae Artist of the Year" 2009
WATUSI is the premier "REGGAE / WORLDBEAT" band from Texas and one of the original pioneers of the genre. Watusi is an eclectic tribe of 10 world musicians, coming from the Caribbean, Afrika and the USA, joining positive vibes and music together in a true Rasta spirit of international unity, with a "One World, One God, One Love" message and a world of rhythms.
WATUSI is the original group on World Beatnik Records, for over 30 years a Texas reggae/worldbeat legend, they have become respected worldwide, with international tours and radio airplay in 107 countries… winning numerous Reggae and World Music Awards along the way. Watusi has released 7 albums and the latest, "JAM", is a mix of diverse riddims and conscious lyrics reflecting a global experience and flow of One love!
A charter member of Reggae Ambassadors Worldwide (R.A.W.), Watusi has toured and shared the stage internationally with virtually all the top artists in Reggae and Worldbeat music, including the Wailers, Steel Pulse, Morgan Heritage, Ziggy Marley, Stephen Marley, Kymani Marley, Burning Spear, Third World, Inner Circle, Black Uhuru, UB40, Mighty Diamonds, Marcia Griffiths, Michael Rose, Don Carlos, Everton Blender, Busy Signal, Franky Paul, Eek a Mouse, Charlie Chaplin, Big Youth, Yellowman, King Sunny Ade, Sonny Okosuns, the Itals, Afroman, Culture, Meditations, Half Pint, Glen Washington, Neville Brothers, Big Mountain, Ras Michael, Job 2 Do (Thailand), Chief Twins 77, O.J. Ekemode, Fishbone, Jimmy Buffett & Reggae Sunsplash U.S. Tour.
A seed from Jamaica, sown by the great Wailer Peter Tosh, was planted in Dallas in 1976, raised in Jamaica in 1981, became Watusi in 1983 and has grown and spread this band and their unique blend of roots Reggae, soca, Afrikan, dancehall and Worldbeat music across America, performing and headlining festivals around the world, from Bangkok to Bali, Hawaii to Hong Kong, Costa Rica to Colombia, Jamaica to Cuba, Senegal to Ghana.
Awards~ Dallas Music Awards ~ Reggae Texas Music Awards ~ Reggae Roots Music Awards ~ Reggae JAM Music Award ~ Worldbeat Jaco Music Awards ~ Reggae. Watusi was the first American reggae group to tour Costa Rica in 2013, Brasil for Carnival 2014, Colombia for Carnival in 2015, Cuba in 2016, West Afrika in 2017, and just returned from a 5 month tour of Asia in 2018, playing shows in Thailand, Laos, Hong Kong, Malaysia, Singapore, Bali, Indonesia!!
2019 celebrates 36 years of Watusi with their very first European tour to Germany, The Netherlands, Spain, Italy and France. March will be the massive Watusi Back to Afrika 2020 tour with concerts in Senegal, Ivory Coast, Ethiopia to South Africa. Ase! For now, it's a fun Summer 2019 with a One Love vibe…everytime!!!
Aloha, Selah…pura vida!